I'm happy to be joining Ruth Ayres @ ruth ayres writes and others to celebrate and appreciate the goodness of the past week.
Summer is in full swing and it's been very HOT here in Vancouver.  It's nice to slow down from the frantic pace of our lives and enjoy time with family and friends.  Here are my summer celebrations so far…
1) Weekend on the lake – To start the summer off with a splash, I spent a few relaxing days with our good friends at their summer lakeside cottage in Vernon.  This is summer tradition as my family have been going there for many years.  Unfortunately, only my younger son Oliver and I were able to make the trip this year but we had a wonderful time.  Morning dog walks, swimming, boating, wakeboarding, and evenings of games, cards and charades!  Of course, I spent a good deal of time reading on the dock!
2) Berry Picking and Jam Making  -This week I took my goddaughter, her sister and their mum, my dear friend Kimberly, to pick berries at Emma Lea Farms in Richmond.  It was a great adventure and a first for the girls.  They were thrilled! (My boys used to LOVE picking berries but sadly, early morning berry picking is not high on a teenager's list of summer activities!)  The sun was shining and we arrived early before the crowds!  We filled two wagons full of berries and then shared a huge berry ice cream Sunday!  Then it was home to wash, mush and make raspberry jam – yum, yum, summer fun!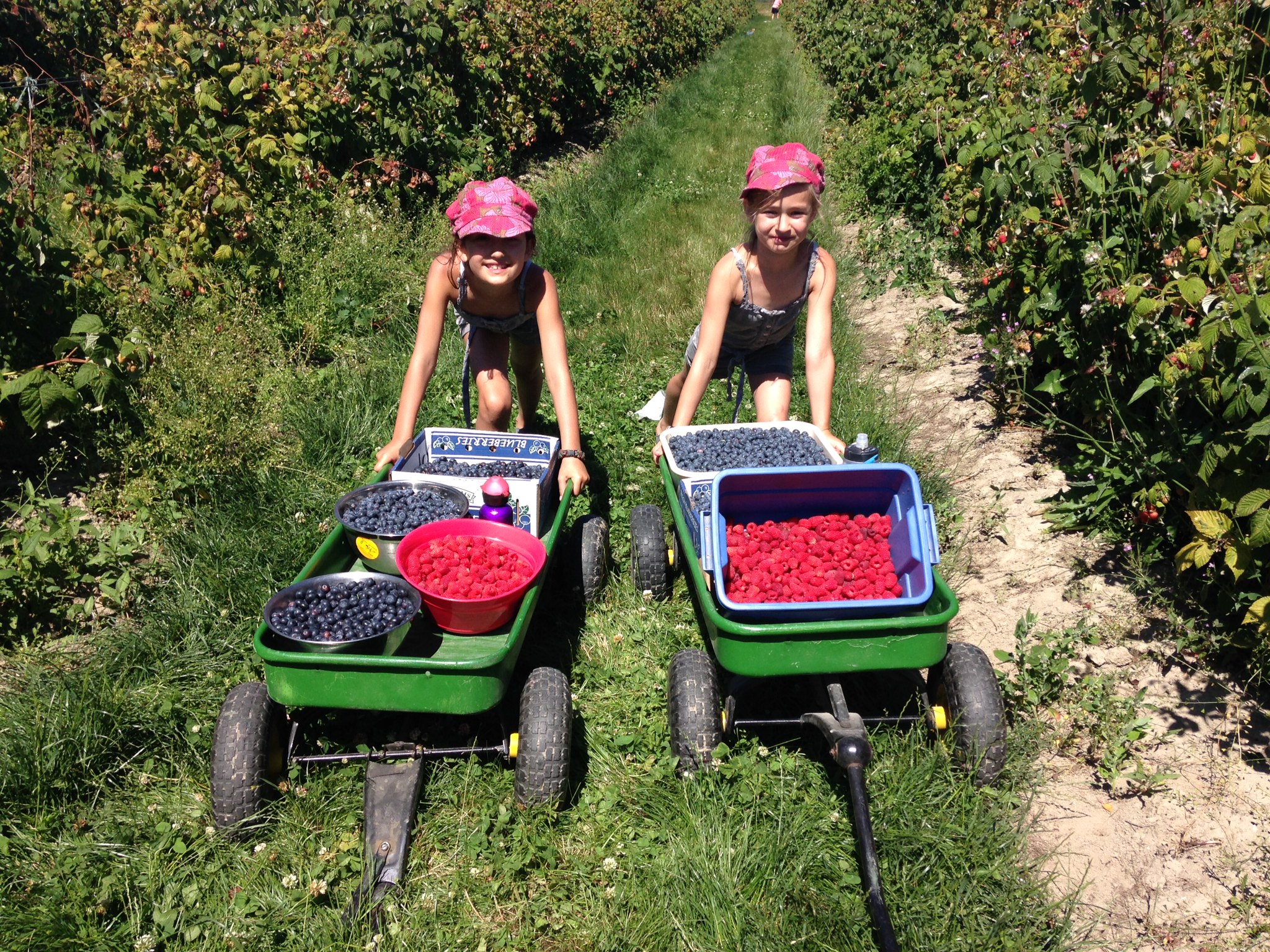 2) Rediscovering Some Childhood "Friends"  – I have been trying to work on the endless sorting of "stuff" that we seem to accumulate.  During a trip into our storage attic, I came across a box of my childhood books that I have never been able to part with.  I was instantly distracted as I sat on the floor and began to read through all my old books that were my friends growing up.  I will be sharing these on an upcoming post but I celebrate the idea that books are my friends – I make new friends, but there is something special about childhood friends.
3) Family Photo Wall – I have been wanting to do a wall of black and white photos of my family for over a year and I have finally got myself organized to do this.  I have spent hours and hours this past week searching through old family photos and I celebrate the wonderful memories we have created together.  Every photo tells a story and I am filled with so much love and gratitude.  My boys are growing up so quickly and I love being able to see their faces through the years.  It was a challenge to narrow my choices down but my photo wall is almost complete.  Here is one of my favorite pictures:
4) Dinner with a New Friend – One of the best things about presenting workshops is meeting educators who share the my passion for literacy and learning.  Some of those connections I make grow into friendships.  Donna Kozak and Lisa Wilson are two extraordinary teachers and literacy leaders from SD23- Kelowna, both of whom I now consider my friends.  Last week, Donna was in town for a conference on New Teacher Mentoring at UBC.  We had a "date" at Seasons in Queen Elizabeth Park- my favorite restaurant in Vancouver.  We sat on the patio and looked out over the city and ate delicious food and drank lovely wine – but best of all we talked and talked and laughed and laughed!  I celebrate new friendships and the amazing, brilliant, beautiful person I now consider my friend.
5) Stenhouse Video Clip  – During my presentation at Reading for the Love of It Conference in Toronto – I met Dan Tobin who is the president of Stenhouse, the company who publishes my books in the US.  He invited me to do a short video clip to promote my new book Nonfiction Writing Power – and just last week, they posted it on the Stenhouse website.  I am thrilled!  You can watch the clip here:  Stenhouse
I have many things to celebrate and I feel tremendously grateful for them all.  What are your summer celebrations so far?