Happy New Year, everyone!  It's been months since I last posted… any spare writing time was spent trying to finish my new book so I  didn't have time to blog.  But now the book is FINISHED!  (what a relief!)  So I hope to get back into my routine of regular blog posts!
Before launching into some of the new books for this year, I thought I would do a recap of my favorites from 2017 –  in case you have missed any of these great titles!  Nearly impossible to narrow it down – and I'm sure I've missed many but, in no particular order, here my favorite picture books of the last year….
King of the Sky – Nicola Davies
King of the Sky is a beautiful, moving story that touches on immigration and inter-generational relationships.   It is the story of a young, displaced boy from Italy and a retired, elderly Welsh coal miner who races pigeons. The book is a gentle meditation on loneliness, courage, and finding your place in the world when you feel out of place.  I love everything Nicola Davies writes – this sweet story is one of my favorites.  Gorgeous illustrations.
Now – Antoinette Portis
Love this peaceful book about mindfulness, living in the moment, and appreciating what's in front of you.  A little girl takes readers on a delightful journey that shows all her favorites and ends with an especially lovely one.  Love the bright autumn pallet.  This would be a perfect book for primary students for making connections to favorite things; with intermediates, I would use it for inferring a deeper message.
Questions Asked – Jostein Gaarder
Any book that promotes deep thinking and deep questions is going to be on my list of favorites!   This gorgeous book poses some of life's most difficult, unanswerable questions in quiet and nonthreatening ways, opening the possibility for further thought and discussion.  A perfect book for introducing deep thinking questions.
A Different Pond – Bao Phi
This book combines family and cultural traditions, inter-generational relationships, and the challenges of the immigration experience all in one.  Beautifully crafted – so quiet and honest, with subtle text and beautiful imagery.  Bao Phi tells the story of an early early morning fishing trip with his father. The trip is not for recreation; it is for food.  There are so many quiet references to the challenges of the immigration experience (Bao makes reference to his father's English, how hard his parents have to work, how everything costs so much).  This would make an excellent book for inferring and a focus on the hardships of immigration.
The Antlered Ship – Dashka Slater
A gorgeous epic filled with equal parts adventure and philosophy, this is one of those books that caught me by surprise when I first read it.  This sweet story features a curious fox who seeks answers to many big questions. Together, with his unlikely group of animal friends, they embark on a wondrous adventure.  Stunning illustrations by the Fan brothers – each page is its own piece of artwork.   Love the lessons in kindness, boldness and friendship.
Crown – An Ode to the Fresh Cut – Derrick Barnes
This book made me smile a big wide smile and brought a bit of a tear to my eye at the same time.  It is just that good.  In a simple way, it is the story of a young black "tween" getting a haircut from the local barber.  But underneath it is a powerful message about dignity and empowerment and the feeling of importance.  Rich, beautiful, and joyful.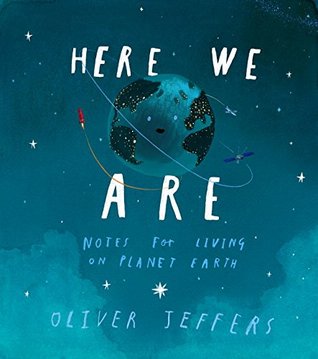 Here We Are:  Notes for Living on Planet Earth – Oliver Jeffers
"Some things about our planet are pretty complicated, but things can be simple, too: you've just got to be kind."   This beautiful book is a message to our little citizens about the mysterious world that they live in and how to understand and take care of it. Originally written as a message to his new born son, add this to your shopping list for any new babies being born, or for birthday presents for the littlest ones in your life!  Simple message for children but equally important and surprisingly deep message for grown-ups.  Gorgeous illustrations.
Windows – Julia Denos
A warm little book about neighborhoods and the people within them. It's a story about a child walking through a neighborhood and noticing people in the windows.  Comfort, belonging, community – all wrapped up in this beautifully illustrated book.
    That Neighbor Kid – Daniel Miyares
In this almost wordless picture book, a young girl curiously watches her new neighbor begin a creative project.  While he struggles with his plans, she offers her help.   A celebration of creativity, friendship, collaboration and determination.  Love the way the illustrations begin as black and white and, as the friendship blossoms, so does the color.
The Bad Seed – Jory John
This humorous tale of a bad sunflower seed who eventually turns good makes a great read-aloud for primary students.  Sunflower is a BAAAAAAAAAD seed!  How BAAAAAAAAD?  He cuts in line, lies, doesn't listen, has no manners…the list goes on!   I like how this book explores how he got to be so bad as well as focusing on his transformation to the "good side".   Expressive illustrations – lots of laughs but great message.
                                                    Why Am I Me? – Paige Britt
Another stunning book that poses philosophical questions – this one with a deep pondering on identity and diversity.  Gorgeous mixed-media illustrations in an urban setting and great examples of point of view and inner dialogue.  Great discussion starter.
Life – Cynthia Rylant
Cynthia Rylant is definitely one of my top favorite children's writers. I find her books to be so life-affirming, full of wonder and hope. Her new book "Life" is simply stunning. "What do you love about life?" is the question asked to many different animals. Through their responses, we are gifted with a wonderful message about life: how it constantly changes, the beauty of it, the darkness, and the wonders all around it. Simple, lyrical text and beautiful illustrations by Brendan Wenzel – it is a calm and reassuring book. Love.
Wolf in the Snow – Matthew Cordell
So many great moments, great emotions and great sound effects in this moving, nearly wordless picture book about friendship, kindness, and compassion.  So much to love about this tale of a young girl who gets lost in the woods in deep winter as a wolf cub gets separated from her pack. The cub is afraid and in danger and the girl carries her to her mother. But the girl is now hopelessly lost, and in even greater danger. The pack, sensing this danger, howls to help the girl's parents find her.  This is a must read, must share and must have little book.   (Kleenex required)
Come With Me – Holly M. McGhee
What can we do to make the world just a little bit better, despite the fear, devastation and hatred we see everyday?  In this timely book, a young girl, frightened by what she is seeing on TV, asks her parents what she can do to make the world a better place. They respond by telling her and showing her that every person can make a difference by being kind, brave and showing compassion.  "Come with me…we can make this world better together."  A wonderful book for launching a compassion project.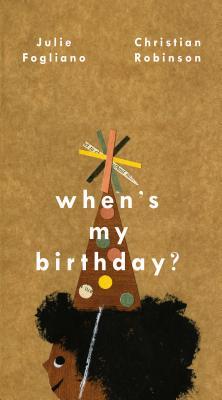 When's My Birthday? – Julie Fogliano
I so enjoyed this enthusiastic celebration of all things birthday!  Perfectly captures the agony and ecstasy of waiting for that one special day.   This book has rhyme and repetition; it's bouncy and infectious and full of joy!  A great connect book for children – and even better one for parents!  "How many more days til my birthday?"
Thought-provoking and beautifully poetic story about a house – and the oak tree, bricks and stones that it once was.  Though-provoking book invites readers to think about where things come from and what nature provides.  Soft, quiet, dreamy.  A note to readers at the back is great for promoting discussions.
There you have it!  So many more I could add but have to stop somewhere!  What were your favorite picture books of 2017?  Would love to hear your titles!
Watch for upcoming lists featuring favorite novels and early chapter books of 2017!