Last week, I posted PART 1 of my Holiday Book Gifting ideas, focusing on books for your younger readers. You can read the post HERE. This week, I am excited to share my picks for gifting those tweens in your life! I've tried to include books for all interests and hoping one will be a perfect match for that reader in your family!
For the Sci-Fi Fan
Bloom by Kenneth Oppel
Kids ages ten and up will get sucked into this unputdownable science-fiction novel about a strange rain that causes alien plants to sprout. The plants climb up buildings, destroy crops, and devour animals and people. Only three teens are immune to the mysterious plants, and nobody knows why. This action-packed book is the first in an exciting new series that will keep kids up all night.
For Your Imaginative Animal Lover
Kids that like animal stories will likely get lost in this magical book. Lexington can speak telepathically to elephants, and they can speak to her. When the elephant Nyah sends her a mysterious message, Lex gets caught up in a spooky and magical adventure that may provide answers about her past.
Skunk and Badger join a list of literary "odd couples" in children's literature, much like Frog and Toad or Elephant and Piggie. If you're looking for an early middle-grade book to read with the kids, this is a great one. Reminiscent of the 100 Acre Wood and Wind in the Willows, and filled with quirky, memorable animal characters, this friendship story has both humour and thoughtful themes. Jon Klassen's illustrations add to the fun.
For your Budding Environmentalist
A coming-of-age story set in the dense rainforest of Tasmania. This book explores so many different themes – family, legacy, friendship, animal extinction, autism, and environmental conservation. Louisa is sent to spend some time at her Uncle Ruff's bush camp in Tasmania when she would much rather practicing her violin for her big audition. While at the camp she meets her great-grandmother, through her journals, a new friend in Colin, and a once thought extinct Tasmanian tiger named Ellie. Ah-Mazing! Love this book and love that it incorporates Vivaldi's The Four Seasons.
For your Historical Fiction Fan
This is a moving story about two girls whose friendship develops during the Chernobyl nuclear accident. Told in alternating perspectives and different periods in history, this story shows that hatred, intolerance, and oppression are no match to the power of friendship. Fascinating and innovative.
Folklore and Fairy Tale Fans
Know someone that likes family legends, folklore, and fairy tales? If so, you'll definitely want to add this middle grade novel to your shopping list. Filled with magical realism, a magical tiger, Korean folklore, challenges and deals and family ties, this novel is about finding the courage to speak up.
Humour
Wink – Rob Harrell
Ross Maloy just wants to be a normal seventh grader but with his recent diagnosis of a rare eye cancer, blending in is not an option. Based on author Rob Harrell's real life experience, this book is packed with comic panels and incredibly personal and poignant moments. It is an unforgettable, heartbreaking, hilarious, and uplifting story of survival and finding the music, magic, and laughter in life's weirdness.
For Fans of Realistic Fiction
Rebecca Stead is known for her realistic middle grade stories and her latest book is amazing. Bea is thrilled that her Dad is going to marry his boyfriend and that she'll finally get a sister. As the wedding draws closer, Bea learns that nothing is simple when you're forming a new family.
For Your Adventurer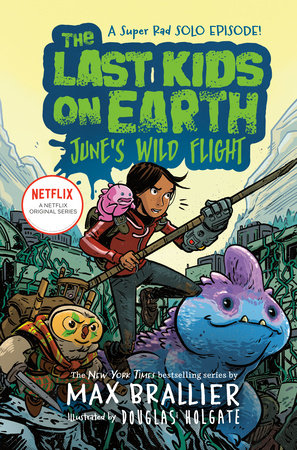 It's not hard to see why The Last Kids on Earth series is such a popular series. These action-packed books are full of monsters and adventure with black and white illustrations splashed across every page. The series has even been adapted into a Netflix show. This book, featuring June, is set between the events of The Midnight Blade and the upcoming sixth book in the series.
Fans of Survival Stories
A thirteen-year-old girl on a family vacation becomes stranded alone in the wilderness when the family's GPS leads them astray. A compelling survival story for ages 10 to 14, for fans of Hatchet and The Skeleton Tree. Exquisite sensory detail!
For Graphic Novel Fans
Calling all artists! This magical graphic novel is for readers with a big imagination and a love of art from the creator of Cardboard Kingdom. It's a funny, imaginative world called Doodleville created inside main character Drew's sketchbook. The only problem is that her doodles don't stay in the sketchbook, including a not-so-friendly monster named Levi. Full of friendship, humor, and fun, this graphic novel will be a big hit!
Delightful graphic novel about navigating friendships in middle grades – making friends and losing them.
This is a great graphic novel for middle grade readers. It not only teaches kids what real friendship looks like, but it also teaches them to focus on who they are instead of who they aren't. This is the first book in the Nat Enough series, but the second book in this series has just been released – Forget Me Nat
When Stars Are Scattered – Victoria Jamison
Based on the real-life experiences of Omar Mohamed, this heartbreaking yet hopeful graphic novel gives readers insight into the life of a refugee. When Omar gets the opportunity to go to school, he is excited. He knows an education could enable him and his younger brother to get out of the refugee camp where they've spent most of their lives. But going to school also means leaving his brother behind to fend for himself every day. This book is a perfect example of how graphic novels can introduce important and timely issues that will resonate with readers. EXCELLENT!
For Hockey Fans
Hockey Super Six on Thin Ice – Kevin Sylvester
Lots to love about this series! It's not only about a group of six friends who love to play hockey, but also an evil genius, some mutant squids who form an opposing team, and a magical blue light that gives everyone some unexpected skills on the ice. It's funny, entertaining, and also focuses on the importance of teamwork.
Thanks for stopping by! I do hope you found 1 or 2 titles that you can gift to the tween in your life.
Wishing you and your family a very happy holiday and well deserved break. Enjoy this time to recharge, reflect, and read-read-read!!!