It's Monday and I'm happy to be participating in a weekly event with a community of bloggers who post reviews of books that they have read the previous week. Check out more IMWAYR posts here: Jen from Teach Mentor Texts and Kellee and Ricki from Unleashing Readers
Last week, I posted my favorite fiction picture books from the past year.  This week,  I'm excited to share my favorite Nonfiction Books of 2014.  Again, book selection is challenging as there are SO many to chose from.  I have also been taking a rather long break from any form of computer work over the Christmas break so I could focus on family and as a result, my descriptors are relatively short! But here they are…
FAVORITE ANIMAL BOOKS
Ivan: The Remarkable True Story of the Shopping Mall Gorilla – Katherine Applegate
A nonfiction companion to the amazing novel The One and Only Ivan.
Creature Features – Steve Jenkins
Steve Jenkins is a master at capturing information in a captivating way both visually and descriptively.  In this book, the creatures describe their OWN features!  Great for teaching "voice" and a wonderful writing anchor.
Animalium – Katie Scott and Jenny Broom
This is an amazing look into the world of animal classification.  Oversized book – wonderful for sharing with students and is made to feel as if you are walking through a museum.  Gorgeous and unique!
Mama Build a Little Nest – Jennifer Ward and Steve Jenkins
Who knew there was such diversity when it came to nest building?  Fascinating to read and look at!
The Slug (from the Disgusting Critter Series) – Elise Gravel
What can I say except that kids LOVE this series!  Interesting facts told with humorous illustrations and slap-stick comments.  A MUST for your classroom library!
Neighborhood Sharks: Hunting with the Great Whites of California's Farallon Islands  – Katherine Roy
Up-close and personal with the world's most deadliest shark!  Captivating and surprising!
A Baby Elephant in the Wild – Caitlin O'Connell
Excellent photographs and informative and interesting text.  Perfect for questioning and a great introduction to narrative nonfiction for younger students.
FAVORITE BIOGRAPHIES
Nelson Mandela – Kadir Nelson
Every child should know the story of this most important, courageous, inspiring man and what he did to end apartheid.  Amazing story, amazing illustrations, amazing man.
Shakleton's Journey – William Grill
Sir Ernest Shacklton's amazing scientific expedition across the Antarctic.  Stunning pencil crayon illustrations.  A fascinating account of a great adventure.
Mr. Ferris and His Wheel – Kathryn Gibb Davis
Amazing facts and stunning illustrations describing George Ferris's remarkable creation.
The Right Word: Roget and His Thesaurus – Jen Bryant and Melissa Sweet
Stunning illustrations and a fascinating story of Peter Mark Roget – the man who created the thesaurus.  Inspires list making!
Families Around The World – Margriet Ruurs
Wonderful look at different families: cultures, food, homes, clothing and customs.  Simple and interesting text – perfect for grade 2-3!
FAVORITE CONCEPT BOOKS:
 IF:  A Mind-Bending New Way of Looking at Big Ideas and Numbers – David J. Smith
Author of If the World Were A Village, David J. Smith, creates a unique book that shrinks down concepts that are hard to wrap your brain around into a familiar and smaller scale.  Perfect book for linking with Math.

 Tiny Creatures:  The World of Microbes – Nicola Davies
 An accessible introduction to microbes for primary students.  A great NF read aloud that will invite lots of  "oooos" and "aaahs." LOVE this book!
Gravity – Jason Chin
Through simple text and stunning illustrations,  Jason Chin explains what gravity does and why it is so important. A complex concept made simple. 
As an Oak Tree Grows – G. Brian Karas
SOOOO many different teachable layers to this book including history, timelines, and life cycle of trees.  This unique book depicts the life of an oak tree spanning 200 plus years and how the world changes around it as it grows.  A perfect book to teach TRANSFORM. 
Clever Concept Books – Jane Brocket
Apparently, there are other books in this wonderful series, but these two titles were released this year.  LOVE them for early primary classrooms – perfect link to teaching science concepts.  Simple text and bright, colorful photographs.
FAVORITE POETRY BOOKS:
Firefly July: A Year of Very Short Poems – Paul B. Janeczko (editor)
Creating images using only a few words can be challenging but every poem in this collection succeeds in doing so. An lovely collection of short poems – and a perfect illustration to children that sometimes, less is more.
Hi, Koo! A Year of Seasons – Jon J. Muth
Soft watercolor illustrations and a charming panda bear, along with 26 haiku poems to celebrate seasons.  A treasure of a book.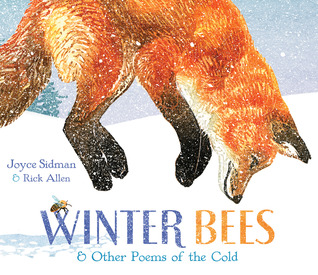 Winter Bees and Other Poems of the Cold – Joyce Sidman
I adore Joyce Sidman's poetry and love how she weaves learning into her poems.  This is a beautiful collection of fascinating poems about how animals stay alive during winter.  LOVE.
And there you have it – my list of favorite Nonfiction Books of the past year.   Thanks for stopping by!  What were some of your favorites?