It's Monday and I'm happy to be participating in a weekly event with a community of bloggers who post reviews of books that they have read the previous week. Check out more IMWAYR posts here: Jen from Teach Mentor Texts and Kellee and Ricki from Unleashing Readers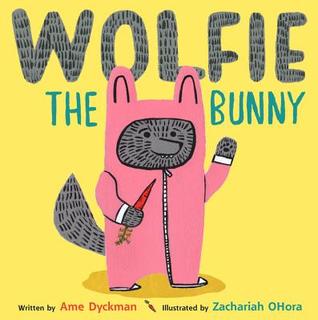 Wolfie, the Bunny – Ame Dyckman
I have heard a lot of positive things about this book since its release in February but I had not read it.  Now I know why everyone loves it so much!  It is a charming tale of a family of bunnies who discover a wolf on their doorstep.  While the parents are overjoyed and welcome the new baby, Dot, their only daughter, is more than a little skeptical about her new sibling and fears they will all soon be eaten!  This book is so much fun to read, full of wonderful illustrations and hilarious lines. Dot is a great character – full of spunk and insight.   I love the way she keeps shouting about how Wolfie's going to eat them with slight variations, finally just giving up.  "Oh, skip it!"   A brilliant book about new babies, sibling rivalry and unconditional love.  Laughs, surprises, suspense – this book has it all!  Perfect read-aloud and would also make a fantastic Reader's Theater!
Zoo – Suzy Lee
This is an interesting almost wordless picture book about a girl visiting the zoo with her parents and ends up getting lost.  The two parallel stories, one told in words from the girl's perspective, the other totally different story is told through the pictures from the parents' perspective.   Reminiscent of "Voices in the Park" by Anthony Browne,  there is distinct contrast of the cooler tones for the parents' perspective and the warmer, brighter, more energetic tones for the girl's perspective.  I would definitely recommend this book to use with older students to practice inferring.
By Mouse and Frog – Deborah Freedman
This charming story is about two friends who co-write a book together.  Thoughtful Mouse has his quiet ideas for writing, while exuberant Frog has his own great ideas he wants to include.  This is a wonderful book to teach kids about working together and the importance of listening and valuing others' opinions.  The illustrations are adorable.  This is definitely a book for sharing with a class.   
Fisherman Through and Through – Colleen Sydor
This was a book that stayed with me after I finished with it.  (Always a good sign for me that there was some "transformed thinking" occurring!)  It tells the tale of three dedicated fisherman – Peter, Santiago and Ahab – who fish the waters every day but long for a more interesting life.  During their long days, they share their dreams of better days.  One day, they catch an extraordinary and unusual fish they have never seen before – a lobster.   The lobster attracts much attention and soon they are surrounded by photographers and are offered a great sum of money for it, enough money to fulfill all their dreams.  (major connections to John Steinbeck's The Pearl)   But the fisherman realize it is impossible to imagine their life without the water, their fishing rods and each other — and return their special catch back to the sea.  Whimsical illustrations, rhythmical text and for older students, could be the starting point for discussion on sustainability and human interaction with the environment. 
 Outstanding in the Rain – Frank Viva
Oh!  The creative cleverness of this book!  The story of a young boy and his mother spending the day at an amusement park is told through a series of die-cut "holes".  As you turn the pages, different cut shapes reveal different scenes and different words.  Balloons become frozen treats, for example.  Clever word play and crafted illustrations.  Lots of fun to read and re-read!
Prickly Jenny – Sibylle Delacroix
This book is a perfect "connect" book for younger children.  We have all had "prickly" days – when we just can't make up our minds what we want!  Jenny wants to be left alone, but she cries when her mom goes away; she wants to wear her old T-shirt instead of her new dress, and that's that.  Jenny wants things her way, but she's not always sure what her way is.  I loved the small format of this book and the lovely chalk pastel illustrations focusing on Jenny's expressive face. And my new favorite word for grumpy is "prickly"!
Welcome to the Neighborwood – Shawn Sheehy
Oooooo – you must see this stunning pop-up book that focuses on the interconnectedness of animal homes.  (Hummingbird builds a nest with Spider's webs, Spider eats Honeybee, etc).   This is an impressive debut picture book with dramatic pop-up paper-collage illustrations,  similar to Steve Jenkins.  Readers are introduced to seven woodland animals, each of whom uses unique construction to build their home independently, yet live together as part of an ecosystem.  This one is a show-stopper!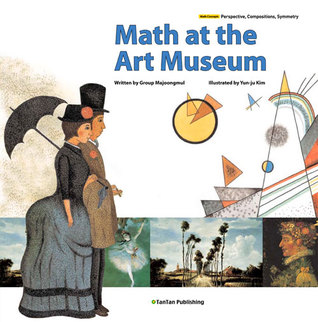 Math at the Art Museum – Group Majoongmul (author's collaborative)
Math concepts can sometimes be difficult to explain or illustrate to young children. This is a charming and very clever picture book that introduces math concepts through concrete examples found in art. Two children and their parents are viewing famous artwork (including Picasso, Kandinsky and Seurat) in a museum. Their father explains that there is math, both hidden and visible, in works of art. While at first the young boy doesn't believe him, as he begins to look at the art in a new way, he begins to discover the "hidden" math. Hands-on activities and elementary mathematical concepts that relate to perspective, composition, symmetry, patterns are included. This is certainly a book that can be used for both Art and Math lessons – a "2 for 1 text"! Love it!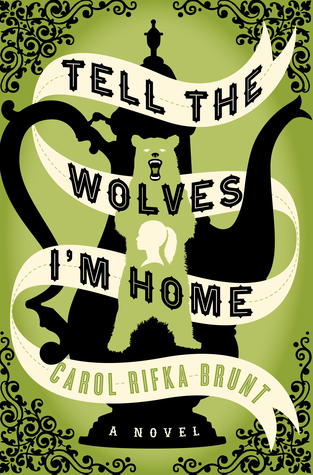 Tell the Wolves I'm Home – Carol Rifka Brunt
For Book Club this month, we are reading this debut novel by Carol Rifka Brunt.  The story is set in 1987 and is told through the voice of June, a 14 year old girl who has just lost her favorite uncle to AIDS.  Her uncle was an artist and right before he dies, he paints a portrait of June and her older sister, Greta.  Her uncle leaves behind his partner, Toby, who forms an unlikely friendship with June after Finn's death.  Together they find comfort in sharing their grief for the person they each loved most in the world.  There is also a story line of June's fractured relationship with her troubled sister Greta.   The book kind of snuck up on me – I wasn't expecting to feel so much when I first started reading it.  At times, it was difficult to read and I felt overwhelmed with emotion.  This book is haunting, beautiful, tragic, powerful, gut-wrenching, complex, poignant.  The writing is achingly beautiful – with so many lines and quotes I marked as I read.  This book has earned a coveted place on the "top shelf" of my book club collection.
Thanks for stopping by!  Please let me know which book caught your eye!