It's Monday and I'mIt's Monday and I'm happy to be participating in a weekly event with a community of bloggers who post reviews of books that they have read the previous week. Check out more IMWAYR posts here: Jen from Teach Mentor Texts and Kellee and Ricki from Unleashing Readers
This week, I am highlighting the rest of my list of summer previews!  In case you missed it, you can read Summer Previews – Part 1 here.
Dewey Bob – Judy Byron Schachner
This looks like it will be a charming book about a sweet raccoon who lives by himself with his many collections of treasures but is missing a friend.
Little Miss, Big Sis – Amy Krouse Rosenthal
Anything written by Amy Krouse Rosenthal is a winner – and with illustrations by Peter. H. Reynolds this is one to watch for!  The story explores the wonders of becoming a big sister and celebrating the arrival of a new baby into the family.
Water is Water – Miranda Paul
A beautiful, descriptive look at the water cycle.  This one is not only one to use for science but also a beautiful example of descriptive language and sensory images.
Rude Cakes – Rowboat Watkins
Who knew cakes were so rude?   A wacky book about manners.  This one looks like it will bring some laughs!
One Word From Sophia – Jim Averbeck
Sophia desperately wants a pet giraffe and tries varied techniques to convince her parents to get her one for her birthday. Looks playful and fun and will be a great addition to my list of "persuasive" anchor books!
What Pet Should I Get? – Dr. Seuss
A never-before-seen book by Dr. Seuss about a brother and sister trying to decide what pet to buy from the pet store.  I can't wait to read this one!
I Yam a Donkey! – Cece Bell
Hysterical and silly look at grammar as a Yam lectures a clueless and grammatically challenged donkey.   A perfect book for all ages – great in an English class to discuss importance of using proper grammar.
Maple and Willow Apart – Lori Nichols
I'm looking forward to reading this third book in the charming  Maple and Willow series.  In this book, Willow has to adjust when Maple starts school.  I love the artwork in these books and the strong sibling bond.
Sea Rex – Molly Idle
I love everything Molly Idle writes.  I fell in love with Flora as she danced with a Flamingo and skated with a Penguin and am now looking forward to Cordelia swimming with her Sea Rex friend.
Something Extraordinary – Ben Clanton
This looks like it will be a great anchor book for writing!  Have you ever wished for something extraordinary? Like the ability to fly? Or to breathe underwater? What if you could talk to animals?  What would you wish for?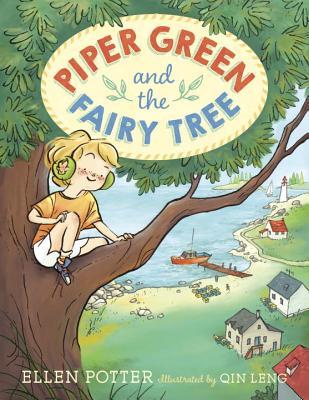 Piper Green and the Fairy Tree – Ellen Potter
This is the first in a new early chapter book series about a girl who says everything that's on her mind (for better or worse) and has something unusual in her front yard: a fairy tree. I'm sure this will be a popular one at my school!
Big Dog and Little Dog (Reader) – Dav Pilkey
This series originally came out as board books but are now available as Level 1 readers.   Looks like a sweet series by the master of the super wedgie!
Thanks for stopping by!  Which book or books have caught your eye?