I am excited to be participating in the Picture Book 10 for 10 event for the second time!  This celebration of picture books is hosted by Cathy from Reflect and Refine: Building a Learning Community and Mandy from Enjoy and Embrace Learning
Choosing only 10 picture books is a huge challenge for me as there are SO many amazing new ones to chose from.  Last year I focused on new books that can be used for Reading Power – 2 books for each of the 5 Reading Power strategies:  Connect, Question, Visualize, Infer and Transform.  (You can check out my 10 for 10 2013 post here) The response was very positive, so I have decided to continue this trend.   Below are my favorite 10 picture books from 2014 that could be added to your reading power collections.
CONNECT
It's OKAY to Make Mistakes – Todd Parr   
I love Todd Parr books – they are bright, colorful and positive and perfect read-alouds for  younger students.  In this new book, he reassures children that mistakes are okay – from spilling milk to coloring outside the lines – children will make connections with every page!
What If…? –  Anthony Browne                                                                                                                                                                                             
Anthony Browne is an amazing author/illustrator and I was excited to see this brand new book on display in my favorite book store.  In this story, he focuses on the anxieties of a young boy who is on his way to a party. His mum is taking him but not staying with him – What if I don't know anyone? What if nobody talks to me?  What if I don't like the food?  While walking to the party, his imagination begins to take over and in classic Anthony Browne surrealist style – his illustrations lead us through some of his scary thoughts.  It all turns out in the end, reminding us that our imaginations can be scarier than our world.  I loved the firm, reassuring mother who helps the boy overcome his fears.  A perfect book for any child who has found themselves feeling anxious about a new experience.
QUESTION
Three Bears in a Boat by David Soman
There is so much to love about this book – the adorable characters, the detailed illustrations, the epic adventure and the slightly surprising ending.  After breaking their mother's favorite blue shell, rather than telling her, the three siblings set off to try to find a replacement shell!   This is a delightful book – from the first page to the very last and I know that younger students will be filled with questions about just what will become of these delightful bears and if they will ever find that perfect blue shell.
Norman, Speak!  by Caroline Adderson
This is a wonderful and thought provoking book that invites a lot of questions.  When a family adopts a dog from an animal shelter, they quickly discover he doesn't understand even simple commands like "sit" or "come".  The family (and the reader) conclude that their new dog (who they name Norman) is not very smart but he is friendly and lovable.  During a chance encounter at a park, the family discovers that Norman understands Chinese and that is why he has not been able to follow their commands.  The family starts taking Chinese lessons so that they can communicate with their beloved dog.  There is so much to love about this book – and many important messages about language and communicating.  The book is long but a perfect read-aloud for grades 3-5. 
VISUALIZE:
Following Papa's Song – Gianna Marino
I LOVE this book!  The stunning illustrations are amazing and I loved how the fictional story weaves in many scientific facts about whales and migration.   I considered including this as a book for Questioning but after several reads, I realized that the magic of the book lies with the images created by the journey these whales take through the depths of the ocean.  Lovely images to invite visualizing:  "…through the liquid light and deep into the mysterious black"    A wonderful book to launch a unit on whales and an anchor book for an art lesson for students to capture some of the images they visualized.
Hi, Koo! – A Year of Seasons – Jon Muth
Icicles.
reach down with dripping fingers
will they touch the ground?
What is not to love about this book?   Jon Muth is one of my favorite writer/illustrators.  I adore his soft watercolor pallet of colors and his gentle words.  This book is a charming collection of haiku poems to celebrate the seasons.  From careful observations of nature to insightful moments to nudge our thinking , I love every corner of this book.   Because haiku poems are short, I find they lend themselves well to capturing single visual images.  Try giving one haiku poem from this book to a group of students and inviting them each to create a visual picture.  The results will amaze you!
INFER
Quest – AaronBecker
I use wordless picture books to help scaffold the strategy of inferring with my students.  Last summer, Aaron Becker's breath-taking book Journey had just been released and was included on my top 10 picture books of last year.  (It went on to receive a Caldecott honor last year!)  My students spent HOURS pouring over the illustrations in that book and inferring endlessly!   So I just couldn't resist including his new book Quest on my list this year. It's hard to believe that Aaron Becker could match the magic he created in his first book, but I thought this one was even more magical!  It follows the same characters from Journey as they begin a quest to rescue a king and his kingdom from darkness. The illustrations are, once again, stunning.  Readers will be captivated and have endless opportunities to infer and practice creative problem solving.  This book is MAGIC!
Flashlight – Lizi Boyd
Another unique, magical book takes readers through a dark forest with a flashlight.  What magic hides in the darkness?  What hidden treasures can be discovered by the beam of a flashlight? I loved Lizi Boyd's Inside Outside so was thrilled to discover her latest creative wordless masterpiece.  A boy takes a walk through the dark woods, shining his flashlight into the wonders of the woods.  The effective illustrations shows the beam of the flashlight and the hidden discoveries found in the forest – small creatures, flowers, moss.  I love this book makes the dark inviting and friendly and would be a perfect book to read before heading out on a nature walk.  A celebration of exploration and wonder! 
TRANSFORM
Sometimes a book can change the way we think about something. When searching for books to use to teach this strategy, I look for books that deal with an issue that students have some experience.  We "take stock" of our thinking about the issue or topic before and after reading, so that the students can visibly notice how their thinking has changed.  These books have the ability to "change your thinking"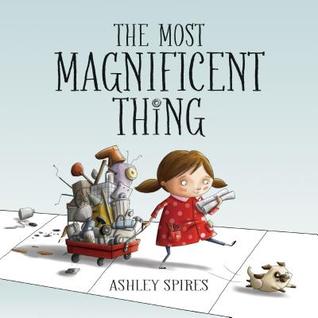 What Do You Do With An Idea? – Kobi Yamada  
This lovely book explores the notion of paying attention to your ideas and just what can happen when you befriend and attend to your ideas.  I see so many possibilities of how this book can change our thinking and can remind us that ideas are possibilities waiting to happen.
The Most Magnificent Thing – Ashley Spires
There are so many things I love about this book, not to mention it is a Canadian author!   This book invites us to revist our thinking about so many things – perseverance, creativity, collaboration, communication, dealing with frustration and being able to adapt to change.  It is so well written and is a perfect book for inviting students to revisit their thinking of what it means to be creative.  A must have for your classroom!
Extraordinary Jane – Hannah E. Harrison
OK – I know I have gone over my limit but I could not resist adding this heartwarming book to my top 10 list.  I have seen many reviews about Extraordinary Jane but I am not a huge circus fan so I suppose I was not particularly drawn to it.   But now I can't stop hugging it!  This book is such an important one to read to children.  Many children feel the pressure to be the best, fastest, smartest, prettiest.  This book reminds us that you can be extraordinary just by being ordinary.  It is not the skills or talents on the outside that makes us special – but the tenderness inside.  You will fall in love with Jane – I promise!
Well there you have it – my top 10 picture books (plus 1!) for 2014.  I hope you found some new titles that you can use in your classroom!  What are your top picks of the year so far?