It's Tuesday, so I'm posting my own version of the Top 10 list!  I've been getting several requests from teacher friends for recommendations for middle grade read-alouds so I have put together a list of my top ten favorites from 2016.  There are so many extraordinary books to chose from and always difficult to narrow it down to just 10 (I ended up with 12!) Please note that even though I have included it on a list of my favorites, before reading aloud to your class, please read it through yourself to ensure it is a good fit for you and your class.
OK… grab a Kleenex box and here we go….
1. Raymie Nightingale – Kate DiCamillo
From one of my favorite writers comes a simple, strong and whimsical story of three friends during the summer of 1975.  A tale of friendship, perseverance, poverty, loss and growing up. I loved the characters, all of them – Love Raymie. Love Beverly. Love Louisiana. LOVE Louisiana's Grannie.   While this is not my favorite KD book, it is high on my list of favorites of 2016.
2. The Boy at the Top of the Mountain – John B0yne
From the author of The Boy in the Striped Pajamas comes another story depicting the horrors of WWII.  After his father, a drunken German soldier, is killed by a train and his French mother dies of consumption, seven-yr. old orphan Pierrot is eventually taken in by his aunt, a housekeeper in large mountain retreat in Austria. While younger readers may not realize without some prompting, adult readers quickly infer that the home is that of Adolph Hitler.  I read this book in one sitting – could not put it down.  I would suggest pre-reading it to ensure appropriate content for your class, as there are some violent and tense scenes.  For older students, it would stimulate discussions around innocence corrupted, the attractions of power, and the resilience of youth.
3. Pax – Sara Pennypacker
Oh, this book.  This book.  A boy, a fox, a war – tender, so beautiful, so emotional.  So many ideas and themes are wrapped around the words: friendship, love, trust, betrayal, loyalty, war, peace.  Please read and share this book.
4. The Seventh Wish – Kate Messner
I highly recommend this book as a read-aloud in a grade upper elementary class.  A modern day fairy tale about a young Irish dancer who, trying to make some money to buy herself a new dance dress, catches a magic fish that grants wishes if she'll let it go.   Sounds a little simple – but this book is so much more.  At times you will laugh, at times your heart will be breaking.   This book looks at family dynamics, addiction, middle school, and Irish dancing with insight and tenderness.   I follow Kate Messner on social media and know that she received some backlash from some schools about her including the subject of heroin addiction.  While I understand some may not be comfortable with this subject matter, I admire the way she presents this real-life problem gently and honestly.
5. The Wild Robot – Peter Brown
What would happen if a robot happened to arrive on an island that is humming with wildlife?  How would it survive?  And so begins this unique, unexpected and delightful survival story that somehow manages to hit many 'hot topics' including: disability, climate change, civilization, violence in nature, gun violence, balance in nature. While this sounds heavy handed – it's not!  Peter Brown has created a very readable, authentic story with a unique voice given to all the creatures on the island.  This book is powerful and gentle and would make a great read-aloud in a grade 4-5 class.
6. Ms. Bixby's Last Day – John David Anderson
The story of a brilliant teacher who sees the good in every single student, especially the little things that others don't see. When her career gets cut short because of a cancer diagnosis, three boys decide to give her a good-bye party to remember.  I love the different voices in this book, as we discover through each boy, just why Ms. Bixby is so special to them.  Yes, you will cry – but you will also laugh along with your students.   I love this book.
7. Maybe a Fox – Kathi Appelt
Wow.  This story of grief and loss is haunting and magical; sad and heart-wrenching.  It is the story of two sisters, Jules and Sylvie, who are being raised by their father after their mother dies.  I loved the exquisite writing; I loved characters; I loved the fox; I loved the way the human world and the animal/nature world intersect; I loved the way death and grief (one of the sisters dies early in the book) are treated with dignity, grace and love. I cried and so will you.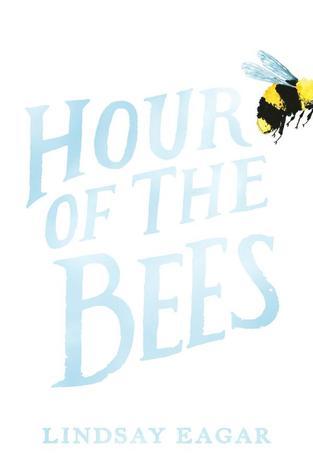 8. Hour of Bees – Lindsay Eager
I feel like a broken record but this book is extraordinary and lingers with you long after you finish it.  It has a wonderful setting (N ew Mexico desert), a fantastic group of characters, and completely enchanting magical elements. Oh, and did I mention beautiful writing? Instead of spending the summer before junior high with her friends in Albuquerque, Carolina is stuck in the New Mexico desert, with her mom, dad, little brother, half-sister Alta, and Grandpa Serge who she's meeting for the very first time. Serge is suffering from dementia, and the family has come to help sell his house and move him to a seniors facility.  Caroline is drawn into Grandpa through his magical stories of the desert and soon the line between reality and magic becomes blurred.  Original, thought-provoking and beautifully written.
9. When Friendship Followed Me Home – Paul Griffin
Here is another book that takes you on an emotional roller coaster – one minute I was laughing, the next I was tearing up.  WOW.  Ben is a twelve year old, former foster child who has finally found a loving home and mother. Ben rescues a scruffy dog he names Flip and befriends a librarian's daughter named Halley. When everything in Ben's life suddenly changes, he discovers the true meaning of family and friendship.   I loved the characters in this book and the writing and dialogue is beautiful and authentic.  It's a tear jerker and tackles some difficult issues, including foster care, physical abuse, cancer, and grief.  Recommended for mature grade 6 and up.
10. Save Me A Seat – Sarah Weeks & Gita Varadarajan
This book is a realistic story set in a school and told in two different voices, making it a great choice for a read-aloud.  Joe and Ravi are struggling at school for completely different reasons: Ravi is a recent immigrant trying to fit in and Joe has some learning difficulties and is often bullied.  Over the course of a week, Ravi and Joe find common ground and a bond in their differences. Great book for making connections.  I loved the authentic voice and diversity of each character.  The added bonus was learning a bit more about their cultures from the descriptions of food – from school lunches to meals at home.   There are even recipes included at the end!
                                              AND BECAUSE I HAD TROUBLE COUNTING TO TEN…
11. The Land of Forgotten Girls – Erin Entrada Kelly
The school where I teach is attended by many Filipino families, so I was excited to read this book about two Filipino sisters. It is another heart-breaker but also a celebration of stories and sisters. Sol and her younger sister Ming live in poverty in Louisiana with their abusive stepmother after their father returns to the Philippines. Sol tells fairy tales which interweave with the plot and help give the sisters strength. A moving book for middle grade readers that highlights themes of sisterhood, friendship, survival and imagination.  As a mother, I found it difficult to read in parts, but the book is ultimately hopeful with strong female characters.
12. The Last Fifth Grade of Emerson Elementary – Laura Shovan
Wow – this book, written in verse, is extraordinary, creative and unique.   You really need to read it to appreciate how amazing it is.  From start to finish, The Last Fifth Grade of Emerson Elementary is completely delightful in every way. Through the voices of 18 very real and very lovable fifth graders, we experience their individual stories as well as the collective story of their class during a very momentous year in the history of their school – their school is being torn down.  So many authentic, diverse voices of family, culture, friendship and personality.  A perfect book for making connections and a must read-aloud book!
 There are SO MANY amazing new novels to read and share with your class this year!
Thanks for stopping by.  Would love to know which book has caught your eye!