Happy New Year!  We are heading back to school SO early this year… and I believe it is going to be a long, cold, and snowy month ahead!  If you are looking for some creative ways to integrate some great winter picture books into your Art lessons, you may find some inspiration in this week's Top 10 list!
1.Once Upon a Northern Night – Jean E. Pendziwol
Lovely, lyrical lullaby celebrating the magic and wonder of an icy winter night.  This book can inspire some lovely winter tree art.  I love this idea from First Palettte to use a marble and paint  inside an empty coffee cup to create the "snowy" effect!
2.  Cold Snap – Eileen Spinelli
A charming neighborly tale about a small town determined to beat the deep freeze. Great book for your unit on community and for making CONNECTIONS!  (Vancouver is in a deep freeze this winter!)
Add icicles to a simple cut-out house or tree art by applying white paint and letting it drip down.  Or use glue and glitter to create the icicles.  (Thicker paper or card stock works best.)  I found this lesson on a blog called Reading Confetti.
3.   The Mitten Tree – Candace Christiansen
Touching message and beautiful, wintery illustrations.  This is the story of one woman's generous heart, giving back, and random acts of kindness.  Perfect for sharing with your students.  The purples and blue palette can inspire your students to create their own patterned mittens.
4. A Perfect Day – Carin Berger
One of my favorite winter picture books with gorgeous mixed media collage illustrations is the perfect inspiration for some snow-angel art!  Based on the book, students paint a snowy background, and create paper snow angels.  Read more about this lesson from Deep Space Sparkle.
5.  Snowmen At Night – Caralyn Buehner
This book is a huge favorite with so many students!  The frolicking rhyming text and vibrant illustrations are delightful to read over and over.  I love following the different snowmen through their adventures – such personalities!   Inspired by this book, have your students create an "arts and crafts" collage by first making a tissue paper background and then adding a mixed media snowman.  This is another great lesson from Deep Space Sparkle. 
Alternatively, here is a different lesson, based on the same book.

6.  Snowflakes Fall – Patricia Maclachlan
This book is a tribute to the community of Newtown, Connecticut, site of the 2012 Sandy Hook Elementary School shooting and childhood home of illustrator Steven Kellog . The  falling snowflakes described in the poem celebrate life's uniqueness, beauty, joy, fragility, sorrow and renewal. Handprint Snowflakes can be found at : healthymamainfo.com
7. Over and Under the Snow– Kate Messner
This delightful book takes you down into the "secret world" of animals who live under the snow.   I love the link to science and the way this book introduces readers to different habitats and behaviors of winter animals, both common and uncommon.
This book can really lend itself to a "layered" art project – sky, above the ground, and under the ground.  Another great lesson from Deep Space Sparkle.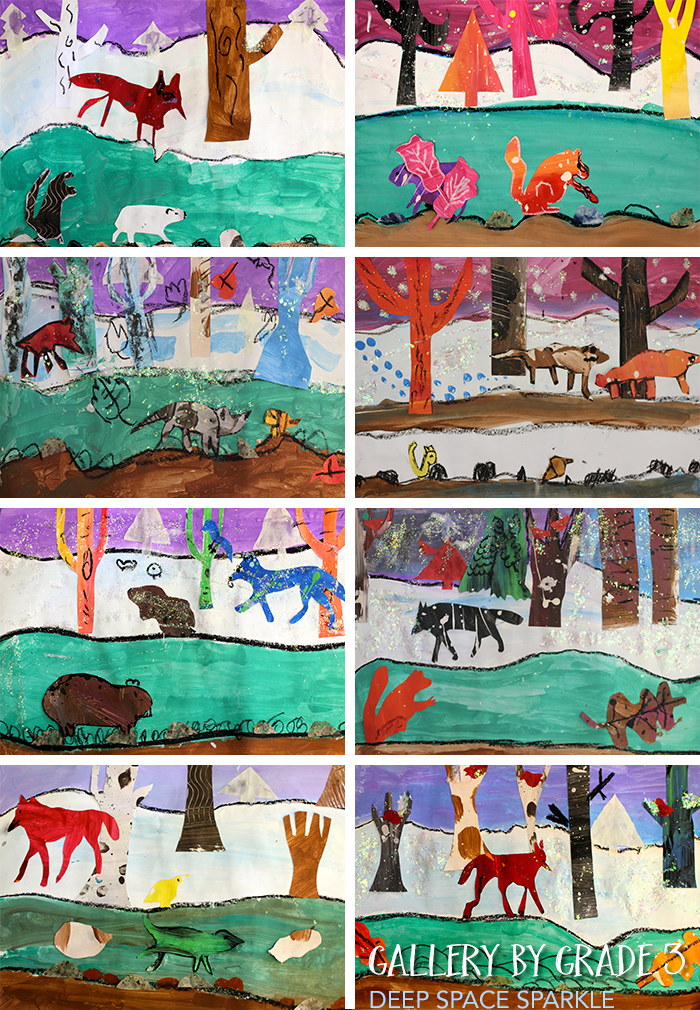 8. Old Bear – Kevin Henkes
Old bear is dreaming and reflecting on the cycle of his life and the cycle of the seasons, his home in the forest and the beauty of his world.  This is a wonderful book for early primary students learning about the seasons.  I love the illustrations in this book and they will certainly inspire some lovely "old bear" art!
On black construction paper, students make leaf prints to create their background. The "Old Bear" is painted on white painting paper, then textured and outlined with black paint.  To make the bear "pop" off the page, have students leave a small edge of white around the bear when cutting it out.  Once the bear is glued on, the white outline on the black background creates a snowy 3D effect.
9.  No Two Alike – Keith Baker
Another one of my favorite wintery books!  Two little red birds discover "no two snowflakes are alike" as they explore a snowy landscape together.    Sparse, rhyming text and gorgeous illustrations. This is a gentle, quiet book.
When I was younger, I loved borrowing "how to draw" books and learning the steps to draw animals.  While some think this type of art is too restrictive and confining, there is something quite satisfying about learning how to draw something accurately!  You can find a great step-by-step lesson on drawing cardinals at artprojectsforkids.org
This layered art project begins with painting a background of sky and ground.  Birch trunks are glued on top of the dried background. HINT:  Space the trunks unevenly across the page and have some of them "leaning" in different directions.  Cardinal birds are painted on a separate paper and cut out when they are glued.  Last step is "fingerprint" snow flakes.
10.  Owl Moon – Jane Yolen
The sensations of walking in the moonlight on a cold, crisp winter night is captured beautifully in this classic story of a girl and her father who are searching for an owl in the woods on winter's night.
 Light, shadows, contrast, perspective and lines are some of the artistic techniques that are highlighted in the gorgeous illustrations. I particularly love the way John Schoenherr plays with shadows on the snow in his illustrations.  I found this Torn Winter Tree art project on artprojectsforkids.com that would be a great lesson for grade 3 and up.
And this lesson from the same site called "Sharpie Winter Landscape", using sharpie pens, also produces a dramatic winter moon effective.
 Thanks for stopping by!  Hope that you found a lesson or two to try!
What is your favorite picture book inspired art lesson?