It's Monday and I'm happy to be participating in a weekly event with a community of bloggers who post reviews of books that they have read the previous week. Check out more IMWAYR posts here: Jen from Teach Mentor Texts and Kellee and Ricki from Unleashing Readers
Reading is a great distraction so after a difficult few weeks, I'm happy to focus on some of the wonderful new books I've had a chance to read.
How to Read a Story – Kate Messner
Step One: Find a story. (A good one.)
Step Two: Find a reading buddy. (Someone nice.)
Step Three: Find a reading spot. (Couches are cozy.)
Now: Begin.
I have been waiting for weeks for this book to come out and it's finally here! This is the most wonderful, charming, delightful book about reading I have seen in a long time. Not only is it an excellent anchor book for instructional writing, it is a beautiful book about the importance and pleasures of reading. This book would be a perfect one to start the school year and would also make a wonderful baby shower gift! Wonderful, entertaining illustrations enhance the text. (The only step that was missing for me was "Sniff the pages"!) This is a MUST have classroom book!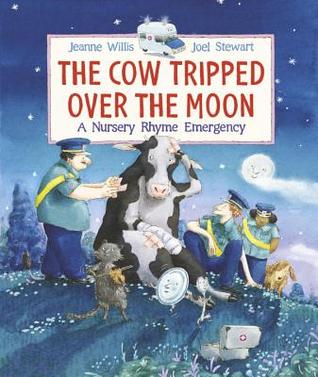 The Cow Tripped Over the Moon: A Nursery Rhyme Emergency – Jeanne Willis
Such fun reading this hilarious book which follows an ambulance as it comes to the aid of characters in nursery rhymes!   Paramedics rescue the cow who tripped over the moon and cracked Humpty Dumpty – delightful!  Rhyming text and fantastic illustrations –  This book is idea for sharing and would be a great addition to a nursery rhyme unit. 
Ballet Cat – The Totally Secret Secret – Bob Shea
Initially,  I didn't think I would like this book because the illustrations didn't appeal to me at first.  But after reading the story, I realized how they compliment the quirkiness of this delightful story.  Sparkles the Pony and Ballet the Cat are trying to decide what to do together but a secret may get in the way of their decision.  This is a wonderful beginning reader similar to the Elephant and Piggy books.  Lots of important themes in this simple story:  overcoming problems that arise when friends who have different interests and want to play different things; how to talk  about your feelings and showing empathy. Love the "talking bubbles"!
This is Sadie – Sara O'Leary
Sigh.  I love Sadie.  I love this book and its simple message about the power of imagination.  Sadie is an adorable, whimsical little girl who doesn't ever leave her room, but whose glorious imagination takes her to far away places, exotic places, magical places.  From sun up to sun down, silent Sadie has glorious adventures.  This book is so so lovely.  It had a soft, lyrical quality and phenomenal illustrations. (I could not stop running my fingers over the pages!)  This book is my new treasure book.
Good Morning To Me! – Lita Judge
Although I didn't enjoy this book as much as Flight School (loved that book!), this lively book tells the story of a cheerful, energetic parrot named Beatrix who can't wait to start the day.  So she wakes up all her sleepy animal friends using her "outside" voice.  This book is fun, but I found the comic style panel illustrations a little busy and would be challenging to share with a whole class.
Where Are My Books? – Debbie Ridpath Ohi
What is happening to Spencer's books?  Spencer loves to read but when his favorite books start to disappear, and are replaced with flowers and nuts, he doesn't know what to do. A fun, slightly odd but engaging story with a surprise ending. (Liked but didn't love)
Daddy Sat on a Duck – Scott M. Cohn
Perfect timing for Father's day – this book is a hilarious tribute to "real" dads.  What are those loud, strange noises?   A young girl is convinced they are wild beasts and not her dad.  Fun, heartwarming look at bodily functions that many children (and parents) will make connections to!  I only wish it wasn't written in rhyming verse as I felt it took away from the content.
 Butterfly Park – Elly Mackay
Gorgeous, captivating, unique, charming!  My favorite book this week.   It tells the sweet story of a little girl who moves to a new town and discovers a place called "Butterfly Park".  The only problem is, there are no butterflies to be found anywhere.  So the young girl sets out to find the butterflies, inspiring the entire town to join in the search.  Wonderful message about working together to build community and make a difference.   The paper-cut out illustrations are truly amazing!  This is a keeper!
Thanks for stopping by!  Please let me know which book(s) caught your eye!